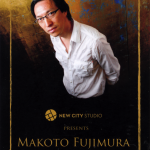 —
New City Studio
introduction of Makoto Fujimura
—Intro from Jim Ballinger of Phoenix Art Museum
—Mako: Part 1
—Mako: Part 2
—Mako: Part 3
—Q&A with Mako
I was asked by a few friends to post this recording that I made with a very spur-of-the-moment method. This is an "unofficial recording" (from the middle of the audience on an iPhone recorder) of Makoto Fujimura at the Phoenix Art Museum. We took an opportunity to hear him speak about his work, painting methods and his career. I have the full recording segmented into multiiple parts for easier listening on the left. Also the total recording is quite long, about 90 min. I have it linked here for download below – worth a listen.
With some great inspiration by New City Church to contact Mako, and more coordination with the Phoenix Art Museum, we had an opportunity to visit with one our truly great artists. He is internationally respected for his contributions to art and faith throughout Washington D.C. and the New York contemporary art world. This is a lecture by Makoto Fujimura regarding his paintings of The Four Holy Gospels and the 400th Anniversary of the King James Bible.
> More about The Four Holy Gospels
He speaks of his processes, challenges and successes of working the way he does to convey amazing truths and timeless themes in a painting style that is a very old technique.
To download the entire 20mb Audio file right-click on this link.