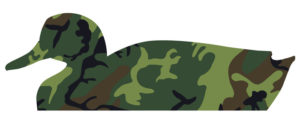 In thinking of the dilemma of life's journey, I have been seeking images that describe the challenges with which we are daily faced. An idea I had was to show temptation in a way that could be depicted in a graphic form.

The oxymoron of a camouflaged decoy is one that I have been designing and am starting to build as a sculpture. What is shown here is my concept for how it can look. Currently I am seeking some decoys to purchase and paint, with an idea to build one that is oversized. Also, I have been researching camouflage patterns that will give the most ideal read to the concept. My first inclination was for it to be digital camouflage which speaks to a more contemporary look, but the jury is still out on this.
I hope this will read clearly and quickly. This series of concepts are exploring what it means to employ graphic design in the process of making an artistic statement that hopefully would continue into a more profound realm of object.
Share this Post